The Broker mode is intended for email processing upon the email client request.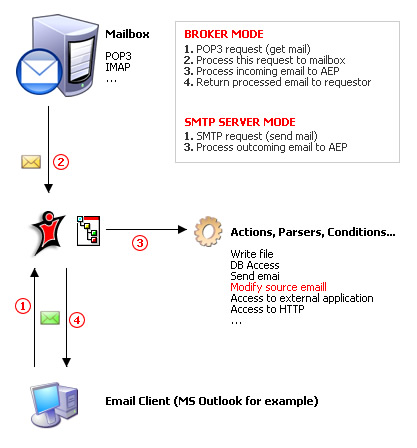 The scheme shows that the email client generates the request to the mailbox. Use this method to create individual processing rules for the incoming mail, when you do not need to watch the mailbox constantly.
The received email can be modified by the AEP rules and given to the email client which has generated the request.
Broker mode does not require the mailbox account in Advanced Email Parser and works in POP3/IMAP Proxy, sending the password/login to the requested POP3/IMAP server.
It's recommended to use the Broker mode for the following tasks:
To sort and redirect the incoming mail
To manage attachments
To protect from spam (with black/white lists)
To get extended sender's information from the local database/CRM
To control public mailboxes (security option)
To use it as POP3 Proxy (security option)
The SMTP server mode can be used to process emails received by the SMTP protocol.
Working in this mode Advanced Email Parser emulates SMTP server work. The received email will be processed according to the rules, but won't be saved at the server for further delivery. This mode is mainly used to create control schemes and manage mailing lists.
It's recommended to use the SMTP Server mode for the following tasks:
To manage external processes using the email
To redirect incoming email
To get integration with MS Exchange/CRM systems
To create intellectual auto-responses
To control server environment
To generate reports
To store data in databases