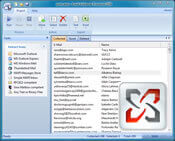 May 14, 2009


We would like to inform you about further development of our award-winning Mailbox Processing Solutions product family. There are two products which are intended for processing of local storages and extracting various items from e-mail messages.
The first product is Email Addresses Processor 2009.

This program assists you in extracting owner's names and e-mail addresses from the local email client's databases and storing them to .txt file or Microsoft Excel datasheet.
Next product is Attachments Processor 2009.

This is a software product designed to extract attachments from mail client message databases and to make an archive of the files extracted.
Now both of these products support a wide range of email clients and servers for processing
Microsoft Outlook 2000-2007;
Microsoft Exchange Server 2000-2007;
any MAPI compatible client/server;
any Simple MAPI compatible clients;
Microsoft Outlook Express / Microsoft Windows Mail;
Thunderbird;
Unix compatible mailbox.
Try our Mailbox Processing Solutions family and get the power and flexible system of email processing!
# # #